You are here
Please
consent
to cookies in order to use the reading list
Attractiveness of continuing vocational education and training in the EU
Cedefop Brussels Seminar with the Germany's Presidency of the Council of the European Union
Cedefop, together with Germany's Presidency of the Council of the EU, is resuming its Cedefop-Brussels seminars with the 9th event of the series, this time in virtual format.
Organised in cooperation with the rotating EU Presidency, these seminars build on Cedefop's research and analyses to address issues relevant to current European debates on vocational education and training (VET) and employment.
The 9th Cedefop-Brussels seminar will present Cedefop's research activities under the overarching theme of attractiveness of VET, with a special focus on continuing VET.
Drawing on Cedefop research, participants will discuss:
trends and characteristics of the participation of adult population in education and training in the EU, taking into account different national contexts and population groups;
attitudes towards vocational education and training, particularly continuing VET, using data from Cedefop opinion surveys on VET supplemented by other international data sources;
policy approaches and support measures to encourage adult participation in continuing VET.
Programme
9.30-10.00
Accessing the event platform – technical check-up
10.00-10.30
Welcome and setting the scene

Maria Höchstädter – Chair of the Education Committee, German Presidency of the Council of the EU
Jürgen Siebel – Executive Director, Cedefop
Chiara Riondino – Head of Unit E3 DG EMPL, European Commission

Understanding attractiveness of continuing VET in the EU

Antonio Ranieri, Head of department for learning and employability (DLE), Cedefop

-------- Five-minute break --------
10.30-11.45
Upskilling pathways for all?

Presentation of policy developments and approaches from Member States followed by a Q&A and discussion involving all participants.

Moderator: Lidia Salvatore, Cedefop

Cedefop Expert (tbc)
Peter Thiele - Head of Division, Federal Ministry of Education and Research, Germany
Barbara Hemkes – Expert, BIBB
Mary Lyons - Director, Enterprise, Employees and Skills, SOLAS
Q/A session

Concluding remarks from European stakeholders

Aline Conchon – IndustriAll
Robert Plummer - Business Europe
European Commission (tbc)
Antonio Ranieri – Cedefop

-------- End of seminar --------
Speakers
Aline Conchon is Senior Policy Adviser at industriAll Europe, the European trade union federation of manufacturing, mining and energy workers. She is coordinating industriAll Europe's activities in the area of vocational education and training, as well as of company policy (policies aimed at supporting trade union action in multinational companies). She supports the "training and education" working group of the European Sectoral Social Dialogue Committee for the metal sector. With 15 years of experience in research and policy advice, she has also developed a high-level expertise on worker participation. Aline holds a Ph.D in sociology of industrial relations.
Maria Höchstädter is the Attachée for Education in the Permanent Representation of Germany to the European Union in Brussels since 2015. For the time of the German EU Council Presidency (July – December 2020) Maria Höchstädter is chairing the Education Committee. Prior to this post she has been working as a specialist in education policy in the German Federal Ministry of Science and Education as well as the Federal Ministry of Labour and Social Affairs. She holds a Master of Arts in Contemporary European Studies from the University of Bath and the German State Examination in Special Needs Education.
Barbara Hemkes – Expert, BIBB
MA German Philology / Political Sciences.
Master of Further and Higher Education.
Since 2011 Head of Section: "Innovative Further Education, Permeability, Pilot Projects" in the Federal Institute for Vocational Education and Training (BIBB).
Policies and programmes: AusbildungPlus, ANKOM, DECVET, DEQA-VET, InnovatWB, Nationale Weiterbildungsstrategie.
Pilot Projects: research based development of innovative solutions for the modernisation of vocational education and training.
Research on permeability between vocational education and training and higher education.
Policy consultation on education for sustainable development.
Mary Lyons is Director of Enterprise, Employees and Skills at SOLAS, the Further Education and Training Authority in Ireland. She has worked as a researcher, lecturer and a skills development specialist with a wide range of learner profiles and sectors. Her current role involves leading innovation with the FET sector in the areas of workforce development and technology enhanced learning. Recent work includes the development of a national policy initiative, on behalf of SOLAS and the Department of Education and Skills in Ireland, to create new upskilling and reskilling opportunities for vulnerable workers and to support SMEs to develop their workforce through further education and training.
Robert Plummer - Senior Adviser for Social Affairs, BusinessEurope Robert is a senior adviser responsible for issues concerning migration and mobility, education and skills, social dialogue and the European Labour Authority. Prior to joining BusinessEurope, Robert worked as a political adviser for the Alliance of Liberals and Democrats for Europe (ALDE) party. He attended Keele University in the UK and holds a Ph.D in industrial relations and human resource management, focusing on a comparative study of the demand for EU migrant workers in Sweden and the UK. He also has an MA in European industrial relations and human resource management and a BA in human geography and human resource management.
Antonio Ranieri is Head of Department for Learning and Employability at Cedefop. He manages a team of European experts working in research and policy analysis on vocational education and training (VET).
An economist by training, Antonio has taught regional economics at the University of Rome since 2002. He also lectured at the National High School of Public Administration on cost-benefit analysis and public expenditure.
Prior to joining Cedefop, in 2010, he was Head of Research and Studies at the public services authority of the Municipality of Rome. Until 2007, he was Head of Area at CLES, an independent centre of studies on labour market and economic development based in Rome. In this capacity, he coordinated a number of key projects of the organization, including monitoring and evaluation of large-scale EU funded programmes, research projects on the green economy, job- and enterprise-creation, labour market analysis and skills development.
Chiara Riondino is head of unit for vocational education and training, apprenticeships and adult learning in the Directorate-General for Employment, Social Affairs and Inclusion of the European Commission. Chiara previously worked as policy coordinator for employment policies and policy assistant to the Director for Employment. In this context, she focused mainly on employment opportunities and challenges in the changing world of work, active labour market policies and fair working conditions. She also worked more broadly on taking forward the European Pillar on Social Rights. Before joining the Commission, Chiara worked in both the private and the public sector, including as head of unit in the Italian Ministry of Economy and Finance.
Lydia Salvatore is expert for adult learning and continuing vocational training at Cedefop. She was responsible for Cedefop publication and research conducted under the economic and social cost of low skilled adults in Europe project and she is currently responsible for managing and carrying out analysis and research on empowering adults through upskilling and reskilling pathways.
Lidia holds a bachelor's degree in political science and a master's degree in EU economics and politics both from the University of Bologna in Italy and she also studied in Australia at the University of New South Wales and University of Sydney. Prior to Cedefop Lidia worked for five years as a research officer in Eurofound, the European Union agency for the improvement of living and working conditions, where she contributed to designing, initiating and carrying out research and comparative analysis in the field of youth employment policies.
Jürgen Siebel – Cedefop's Executive Director
Jürgen Siebel joined Cedefop from the private sector in September 2019. As Executive Director, he is responsible for managing the Agency's operations in accordance with the strategic direction of its tripartite Management Board.
Jürgen has a background in human resources management with particular emphasis on learning and education, the strategic development and roll-out of work-based vocational education and training programmes, as well as related corporate social responsibility initiatives. In this context he has also collaborated with institutional actors at national, European and global levels.
Before joining Cedefop in Thessaloniki, Jürgen served for 20 years in various leading operational and strategic HR roles in Siemens, mostly as senior manager with global governance or business partner responsibilities. Jürgen earned his MSc in economics at the University of Hamburg, and a PhD in business administration from the University of Vienna.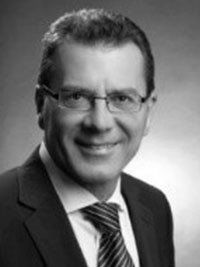 Peter Thiele is Deputy Director for VET policy at the German Federal Ministry of Education and Research (BMBF).
He represents Germany in several international, European and national VET strategy and programme committees, and heads the BMBF Division for Vocational Continuing Training Policy, covering basic policy issues, skills strategy, innovation and digitalisation in CVET and several innovation programmes. He was responsible for VET policy in Apprenticeship and initial VET for many years. He also headed the division for European cooperation in Education and Training in the German Federal Ministry of Education and Research.
He has worked in the Directorate for International Affairs of the Federal Ministry of Education and Science and with the International Labour Organization in Geneva and Turin. He was also responsible for the development and co-financing of UNESCO-UNEVOC in cooperation with UNESCO.
Mr Thiele is a qualified lawyer specializing in public law.