You are here
Please
consent
to cookies in order to use the reading list
Strengthening skills anticipation and matching in Slovakia
Skills intelligence support to policy-makers and learners
COVID-19 and hard copy dissemination
- Due to the pandemic, Cedefop has decided to suspend distribution of all hard copy publications and flyers for as long as special measures are enforced by Member States.
We encourage you to visit our
website
, where all published titles are available online.
Please note that you can subscribe to alerts for new content by registering
here
.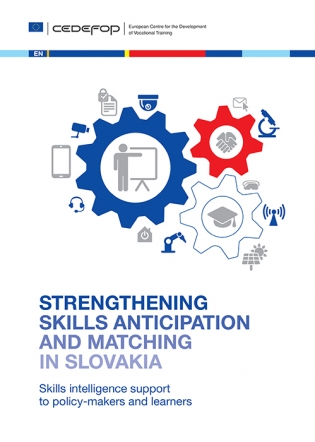 Ensuring that EU countries develop robust skills anticipation to inform responsive VET systems is a key aim of the Skills agenda for Europe. But, to have impact, skills intelligence requires good skills governance, feeding into VET and employment policies with wide outreach to diverse potential users.
In 2015 Cedefop initiated a country support scheme to assist the EU strategy of improving skills governance in Member States. Cedefop has recently concluded four skills governance country reviews in Bulgaria, Estonia, Greece and Slovakia, following pilots in Iceland and Malta.
This report summarises the key insights and lessons from the review of skills governance in Slovakia. Using input from a wide stakeholder consultation and an online opinion survey among employers and VET providers, it analyses current challenges and bottlenecks, with a view to uncovering the root causes of key skills governance issues. Thoughts on possible progress and examples from other countries aim to inspire policy-makers in shaping ideas for further work.
Order
Available only in electronic format (download)