The coronavirus crisis, along with automation, have had a profound impact on the automotive industry and the profile of its workers. Cedefop looks at the severity of the impact.
2020 was perhaps the most challenging year for the European automotive industry in decades. As a direct result of the coronavirus pandemic, car production fell even below the 2009 financial crisis levels and hundreds of thousands of workers were temporarily or permanently laid off.  
The pandemic ended a successful decade, in which the EU car industry created some 700 000 new jobs, mostly in central and eastern Europe. Economic growth and increasing purchasing power of Europeans were the main drivers of a rising demand for cars, leading to investment in production facilities. While western EU-based car manufacturers focused on the R&D, sales, marketing and logistics parts of the value chain, EU countries in eastern Europe contributed to the industry success with their skilled workforce, superb technical/vocational skills and lower labour costs.
Figure 1: Employment growth in the automotive industry (2010-20)
Source: Cedefop skills forecast database. Own calculations.
Technological innovation leads to new skills needed
Production and employment expansion goes hand in hand with technological innovation. As a result, medium-skilled technical trade jobs (metalworkers, electro-engineering workers) have become less dominant, while employment in highly skilled technical jobs (such as researchers, engineers, ICT professionals) is on the rise.
The automotive industry is a leader in robotisation, accounting for almost one third of all new industrial robot installations yearly. Cedefop research shows that half of EU automotive companies use robots: more than twice the average of the manufacturing industry as a whole.
The industry is shifting towards producing electric cars. Technological innovation means cars are increasingly becoming 'computers on wheels'. It is estimated electronics and software may represent up to 35% of a car's value in the next five years and possibly 50% in 2030 – a shift with significant skills and training implications.
That is why transversal and high-end technical (ICT; design; engineering) skills are growing in importance. Some 90% of the forecasted job growth in the industry between 2020 and 2030 is in engineering or ICT occupations.
Figure 2: Rising engineering and ICT intensity in the automotive industry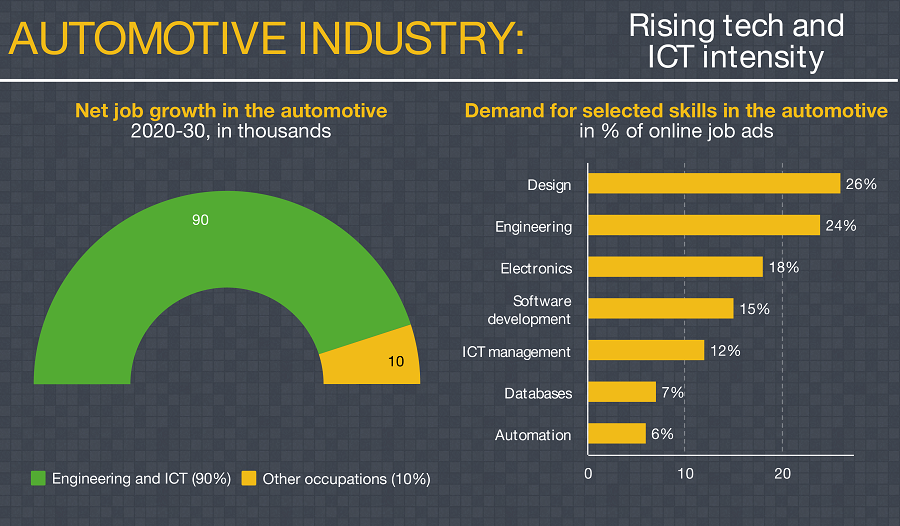 Source: Cedefop skills forecast database. Cedefop skills OVATE. Own calculations.
Automotive workers most at risk of automation
The short- and longer-term impact of the pandemic will likely speed up the automation trend. With a shrinking talent pool, the coronavirus crisis will leave manufacturers with no other choice than turning to automation to tackle skills challenges and to adapt processes in line with occupational health and safety standards that protect workers from the pandemic.
The automation risk is higher for older workers and those with low-level education. The most exposed production line occupations in the industry are assemblers, machine operators, metal workers, electro-engineering workers and manufacturing labourers. More than one in four people working in these occupations are 50 years or older and a similar share of workers is low-skilled. These workers also tend to have lower access to training that would help them adapt to workplace changes or to find alternative employment in cases of lay-off. This is a true challenge for stakeholders and VET policy-makers. How can we ensure that accelerating automation will not create winners and losers, but rather winners and, at least, good adapters?  
The role of vocational training in times of change
To ensure operations function smoothly during and after the pandemic, training in many different areas is essential. Workers need training in health and safety procedures for obvious reasons, but also employability training to expand skills portfolios, so that they can take on multiple roles and flexibly adjust when other staff members are sick or need to self-isolate.
Digital skills training can offer access to remote working opportunities; developing skills to handle value chain disruptions flexibly and risk assessment skills to identify potential weaknesses in processes should also be training priorities.
It is necessary to support the adaptability of managers, workers and whole organisations to enable activity shifts to areas where the industry can use its knowledge and skills to come up with the products consumers want. All these types of skill development are on top of core business training to master the use of new technologies. There will also be a growing need for pro-active training for workers whose skills may become obsolete as a result of disruptive processes or technologies.
Figure 3: Skills for the future automotive industry
Source: Cedefop.
Read Cedefop's detailed report on the automotive industry
here
.