At the end of June 2017, the Finnish Parliament approved new legislation for vocational education and training. The reform is the most extensive in education legislation in almost twenty years. The new act will enter into force on 1 January 2018.
The aim is to have every young person complete at least an upper secondary qualification. The most significant change is the way of thinking, shifting from a system-centred approach to a competence-based one. Personal study paths, broad-based competence and close cooperation with working life are core issues.
This new reform, will allow learners to address their individual competence needs by offering them the opportunity to acquire qualifications flexibly, attending programmes in education institutions, workplaces and in digital learning environments. Programmes will be also available in preparatory education and training not leading to qualification.
A new training agreement mode, introduced in this reform, will increase the opportunities for studying at workplaces. Existing apprenticeship training will become more attractive since the competences acquired through training agreements or apprenticeships will be demonstrated in practical work situations. Competences will be assessed by teachers and working life experts.
Responding to the volatile working environment, learners will be allowed to apply for and begin their training courses according to their needs. There have been two application dates for VET: in spring and in autumn. An online application system will be also introduced that will allow learners to apply through the year.
A new funding model encourages education providers to improve the effectiveness and quality of education. VET providers are municipalities, federations of municipalities, a state-owned institution and foundations. The foundations consist mainly of municipalities and various private organisations and companies, all of which are government dependent. The present funding system is based almost 100 % on the number of student years (basic funding). The reform will gradually change the system, starting in 2018 so that, in 2022, there will be only 50 % of the funding based on student years, 35 % performance-based funding based on how many qualifications and units are produced, and 15 % effectiveness-based funding based on access to employment and further studies. Funding encourages learners to reduce discontinuation of studies and recognise prior learning efficiently. New organisation licences will allow education providers to be more flexible in organising education and training programmes. Even though they have to follow the national qualification requirements, they will have more freedom than before to decide on teaching/learning methods, learning environments and pedagogical solutions, such as traditional contact teaching, simulators and other digital learning environments, and workplaces.
One main goal of the reform is to make education more competence-based and customer-oriented than before. Each student will be offered the opportunity to design an individually appropriate path for completing an entire qualification or a supplementary skill set. It is believed that this encourages and motivates young people to apply for vocational education and complete a VET qualification.
The Ministry of Education and Culture, as required by parliament, will support and monitor implementation of the reform. It is necessary to monitor the impact of the reform on the regional availability and linguistic accessibility of education, discontinuation of studies and the implementation of the education guarantee, and ensure that the number of places for apprenticeship training and training agreement increases according to the goals of the reform.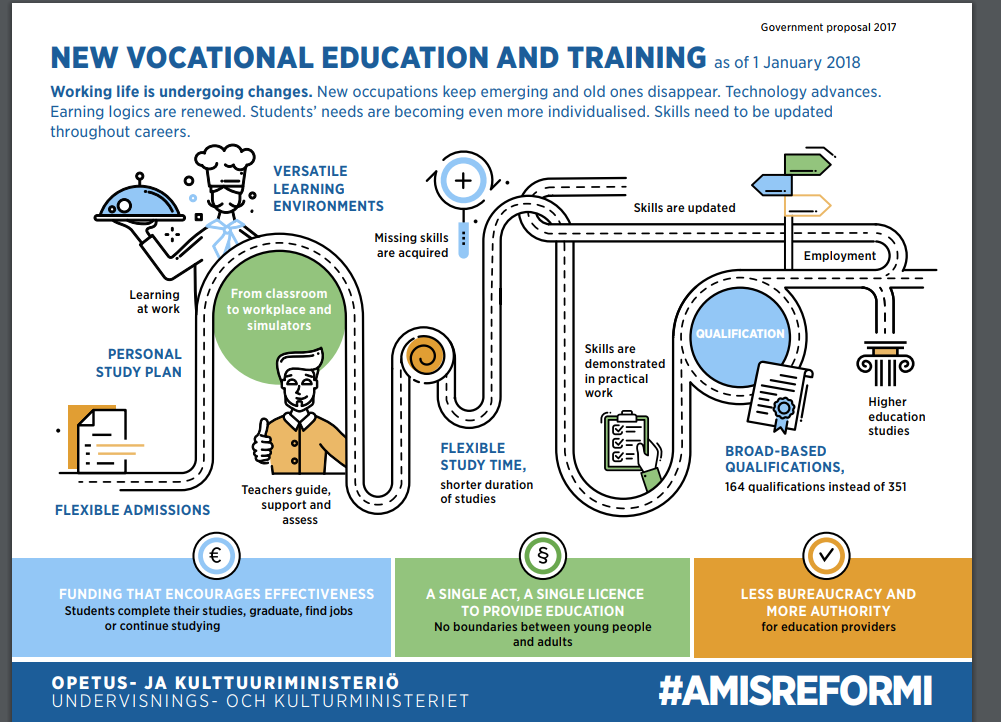 Click here for more information