The Education and Employers charity has identified good practices that schools in England successfully employ to aid young people's transitions from school to apprenticeships, during a period of time when the overall number of teenage apprenticeship starts has stagnated.
The number of apprenticeship starts in England each year has nearly tripled in a decade (BIS, 2016), mainly because of an increase in adult apprentices. While more teenagers apply for apprenticeships, actual teenage apprenticeship starts are not rising.
Careers advice
Only 11% of respondents to the Education and Employers survey thought about and pursued the option of becoming an apprentice. Another poll of those aged 16-18 (YouGov, 2015) found that 31% had not received any careers advice on apprenticeships.
Tip 1: The most successful schools in getting teenagers into apprenticeships give advice and guidance at a younger age than other schools, to allow plenty of time to consider future career options.
Fig 1: Age that students were told about apprenticeships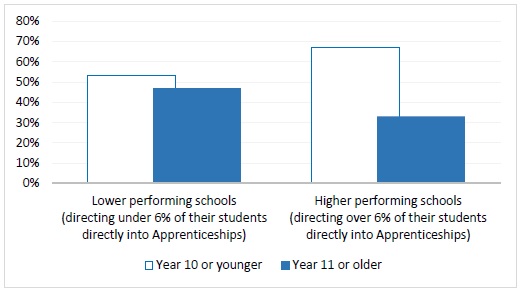 Employers responding to the project survey believe that there is a stigma associated with apprenticeships that means they are only being promoted to lower achieving students. School teachers may also be less confident in promoting apprenticeships due to a lack of relevant personal experience.
Tip 2: Provide support to raise the confidence of school staff
Gender stereotypes
The Education and Employers survey identifies diversification of the workforce as one of employers' key reasons for hiring teenage apprentices. Despite this, only one school in the project sample challenges gender stereotypes by promoting non-traditional job roles to young people.
Tip 3: Early exposure to gender-awareness activities can encourage girls and boys to try apprenticeships they may not have considered otherwise.
Parents
65% of young people think their parents prefer them to enter university rather than an apprenticeship (ACCA commissioned survey, 2015). The Education and Employers project discovered that few schools arrange events specifically oriented towards parents.
Tip 4: Schools and colleges with a high number of successful apprenticeship applicants carry out specific events to engage parents as part of their careers provision.
Businesses
Education and Employers advises that careers events involving businesses have optimal impact when valued by young people.
Tip 5: Schools and colleges with a high number of successful apprenticeship applicants invite current or ex-apprentices to show young people the progression and career routes available.
Preparation
Low attaining, white males from less socially advantaged backgrounds report that they are the most likely group to plan to apply for apprenticeships at age 19. However, young people from disadvantaged backgrounds, particularly those with unemployed parents, are no more likely to become actual apprentices (Longitudinal Study of Young People in England).
Employers report that young people often lack basic skills, attitudes and behaviours needed in the workplace, in addition to appearing immature and unreliable during interviews; consequently, they are reluctant to employ young people again (Ofsted, 2015).
Tip 6: Many employers use assessment centres as part of their recruitment processes (CIPD, 2014). Schools and colleges should prepare young people to deal with the centres' wider array of tests and exercises more confidently.