A new VET Act CXCII was adopted on 17 December 2017 by the Parliament. This amends certain acts on general education, vocational education and adult training and aims to support practical training in dual VET programmes.
An apprenticeship scheme has been in place in upper and post-secondary VET since 2000 and dual study programmes were introduced in higher education in 2015-2016. Due to rapid changes in the business environment and the dynamic development of the Hungarian economy, increased attention is being given to improving and extending the apprenticeship training offer by:
strengthening the work-based learning component of vocational programmes and improving the labour market relevance of skills students train for. New national curricula for upper secondary VET programmes have been updated in 2017 and 2018 (respectively, szakgimnázium combining general and vocational education and szakközépiskola which are more practice-oriented programmes);
boosting apprenticeship training contracts in upper secondary education: companies may conclude pre-apprenticeship contracts with the best performing students in the last grade of lower secondary education; the measure is seen as a commitment between the entity offering practical training and the student wishing to move on to upper secondary VET. The apprenticeship training offer has also been extended. From the academic year 2018/19, students in the last two years (grades 11 and 12) of the four-year upper secondary programmes combining general and vocational education (szakgimnázium) may also conclude apprenticeship contracts. Previously these were mainly offered to students enrolled in practice-oriented three-year programmes (szakközépiskola).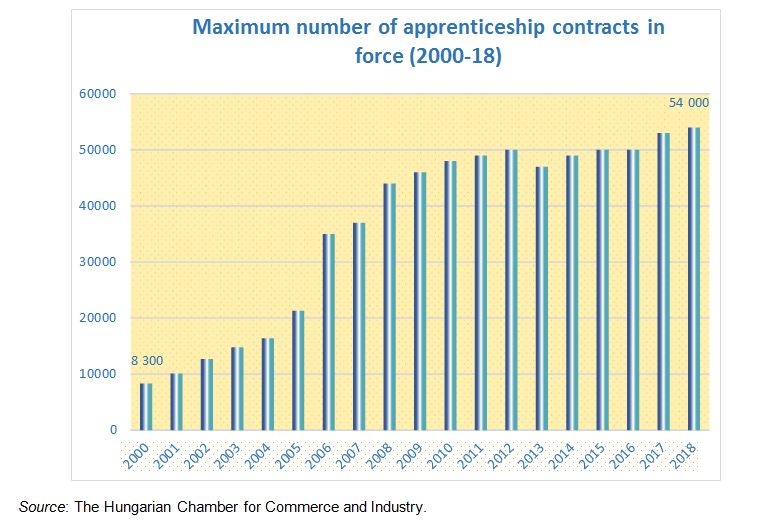 According to legislation there is no statutory upper age limit to pursuing vocational education and training programmes either in formal or non-formal education; this means that apprenticeship contracts are accessible to young adults wishing to combine work with formal studies [1] as well as in any other non-formal adult training programmes.
Encouraging SME engagement in quality practical training
In Hungary, 95% of small and medium-sized enterprises employ fewer than 10 employees. A new measure is in place to ensure the quality of practical training offered: since 2018, micro and small enterprises that fulfil specific requirements (business turnover, number of employees and form of business, as attested by a certificate issued by the chamber) may conclude more than 12 apprenticeship contracts simultaneously, if other entities cannot provide practical training places. Sectoral training centres currently being established will also be offering apprenticeship contracts.
Inclusive education has considerable State support. Apprenticeship contracts for SEN learners (multiple disadvantaged students or learners with special educational needs) are not included among the contracts in force, but SEN learners can train for the second and any further vocational qualification in full-time education free of charge and without age limit.
A financing scheme is in place for companies wishing to offer practical training. The State retroactively supports costs incurred in apprenticeship training; where the subsidy received exceeds the vocational training contribution due from the company, it can be used to settle other tax liabilities.
Read more: