Challenges Addressed
4/14
Blended counselling
Exchange and knowledge transfer (among educational professionals, guidance counsellors, etc.)
Facilitation of transition from school education to career selection
Improve matching between skills and jobs
Improvement of guidance/ employment services
Increase the interaction between schools and professional life
Increase the mobility of people in Europe for education and employment purposes
Promote self-assessment
Provision of low-threshold information on educational guidance to disadvantaged adult populations
Raise awareness on guidance
Reduce early school leaving
Support those wishing to re-enter the labour market
Tackling unemployment
Target unemployment
Improvement of guidance/ employment services
Raise awareness on guidance
The Work Profiler is a selection and diagnosis instrument, which aids the UWV to provide tailored service provision to clients on unemployment benefits. To this aim, a jobseeker fills in a short questionnaire containing 20 questions within the first three months of unemployment. Work Profiler can only be filled in by jobseekers that have already worked before.
The Workprofiler enables the selection of jobseekers towards face-to-face or computerised services by estimating the clients' chances of finding work within a year, while offering a quick diagnosis of the most important obstacles for their return to work and determining the type of services needed to enhance the probability to resume work in the near future. As such, it is a tool that targets unemployment and improves guidance/employment services.
Policy objectives
4/15
Access to Lifelong Guidance Services
Assessing the effectiveness of Lifelong Guidance Provision
Assuring the quality of Lifelong Guidance Provision
Career Management Skills
Contributing the rise of mobility of people in Europe for education and employment purposes
Funding Lifelong Guidance Services
ICT in Lifelong Guidance
Improving careers information
Improving employability and supporting older workers
Interactive online tools
Raising the skills and qualifications of adults
Raising the skills and qualifications of young people
Strategic Leadership
Supporting people at risk and disadvantaged groups
Training and Qualifications of Guidance Practitioners
Access to Lifelong Guidance Services
Assessing the effectiveness of Lifelong Guidance Provision
Assuring the quality of Lifelong Guidance Provision
INNOVATIVE ASPECTS OF LMI
3/21
Blended counselling
Creation of ePortfolios with students' skills and competences
Crowed sourcing of expert knowledge on educational guidance
Customisation of LMI through the users' adaptation according to their needs
Data entered by end-users
Effective job matching
Guidance methods
Informal LMI
Innovative user profiling
Interoperability with job-search engines
Life course related filtering of LMI
Matching of regional education to labour market
News relevant to educational guidance
Occupational information
One-stop-shop
Personalised educational advice
Provision of additional information on the awards not available elsewhere, to make it easily understood to employers and institutions in other countries
Provision of external links to available EC employment, guidance and educational services
Real time LMI
Scientific research on guidance
Thematic compilation of third party LMI
Innovative user profiling
In order to develop the Work Profiler, the factors that are predictive for return to work had to be identified via a three-stage research approach:
a literature study, which identified many predictors that can influence the likelihood of finding a job;
a cross-sectional study, during which the answers of the long-termed unemployed were compared to the answers of individuals who resumed work quickly;
and a longitudinal study, in which a large group of recently unemployed people were followed-up during a period of time to see whether they did or did not resume work.
Once all these factors were identified, the Work Profiler was created.
INNOVATIVE USE OF ICT
1/13
Combination with offline elements
Connection with third parties (LMI, PES, etc.)
Customized RSS feed
Dynamic interconnection of electronic resources according to a life course approach
e-portfolio
Interactive online tools
Mobile app
Online counselling
Online wiki
Open source
Personalised information storage
Quick diagnosis tool
Social media utilisation
The Work Profiler is accessible through an online portal. The Work Folder ("Werkmap") allows jobseekers to retain personal files and find online modules that aid in the search for work.
Results and impacts obtained
In terms of numbers, in 2013 the first version of the Work Profiler was implemented stepwise in 11 Dutch unemployment offices serving as test cases of the total 35. The second version will be implemented in all unemployment offices.
From a qualitative point of view, the implementation of the Work Profiler has led to some behavioural changes of practitioners. In the past, career guidance services were based on the experience of the work counsellor. After the implementation of the Work Profiler, more evidence-based material is used and counsellors know exactly which aspects should be discussed with the jobseeker. As such, the face-to-face services are more structured and the Work Profiler serves as a guidance tool for the conversation.
Evaluation process: Jobseekers were approached in April 2014 to take part in an assessment study.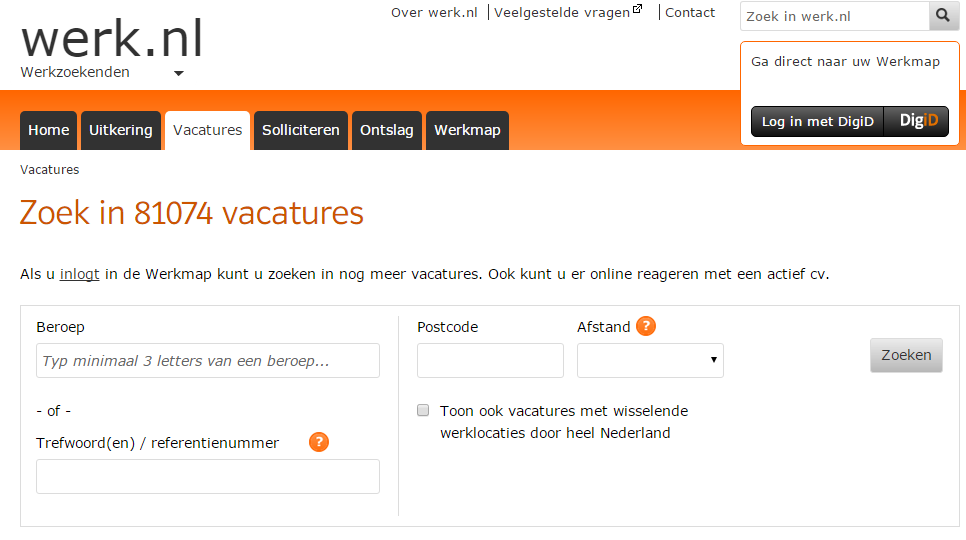 Success Factors
Career advice is more 'evidence-based';
Career counsellors provide their help based on scientific solid research.
Points of Attention
Career counsellors claim that their experience is often better than the results of a survey of 20 questions.
Policymakers question the fact that 20 questions, with a majority of soft factors, could be used to derive the likelihood of finding a job.
Some question the fact that the questionnaire hardly includes questions regarding LMI and mostly contains soft factors.
Transferability elements
The initial objective of the Work Profiler was to provide career counsellors with a tool that can be used in their guidance activities with jobseekers. Due to large budgetary cuts, the budget for face-to-face counselling dropped substantially in the Netherlands and forced the UWV to become a more digital organisation in which a multitude of e-services is provided.
The development costs for the Work Planner are mainly comprised of personnel costs for maintenance and updating.
At UWV, one FTE for three years is sufficient for the maintenance and updating of the Work Profiler. However, the update of Work Profiler 2.0 demands more FTE as more research must be done.
The Work Profiler is integrated in the personal Work Folder of the jobseeker guaranteeing privacy. Jobseekers apply for unemployment benefits;
Jobseekers fill in the Work Profiler link, where the system automatically redirects to the online questionnaire;
Answers are automatically processed by the system and a summary report provides an overview for both the jobseeker and the career counsellors.
The Work Profiler is combined with offline elements as job counsellors and coaches working for UWV use this tool in their contact with the unemployed.
Continuous development is needed in order to keep the tool up-to-date and reliable;
Factors such as policy reforms, on the duration of eligibility of unemployment benefits or the size of unemployment benefit might affect the chances of resuming work;
Continuous maintenance and adjustment of this tool is needed in order to remain usable and reliable.