Challenges Addressed
7/14
Blended counselling
Exchange and knowledge transfer (among educational professionals, guidance counsellors, etc.)
Facilitation of transition from school education to career selection
Improve matching between skills and jobs
Improvement of guidance/ employment services
Increase the interaction between schools and professional life
Increase the mobility of people in Europe for education and employment purposes
Promote self-assessment
Provision of low-threshold information on educational guidance to disadvantaged adult populations
Raise awareness on guidance
Reduce early school leaving
Support those wishing to re-enter the labour market
Tackling unemployment
Target unemployment
Exchange and knowledge transfer (among educational professionals, guidance counsellors, etc.)
Facilitation of transition from school education to career selection
Improve matching between skills and jobs
Improvement of guidance/ employment services
Raise awareness on guidance
Vi@s supports the self-management of citizens' careers and the activities of guidance counsellors, for improving their face-to-face interventions with the more disadvantaged unemployed jobseekers. Users can access four different Vi@s, that match the four thematic pathways with different types of information and activities:
Work Competencies: self-diagnosis of transferable skills required by employers and skill development by accessing online exercises and information;
Vi@ exploration: self-knowledge and exploitation of occupations, active employment measures and education, training or job opportunities;
Vi@ entrepreneurship: self-diagnosis of entrepreneur profile and potential development of entrepreneurial attitudes;
Vi@ professional network: provides the knowledge and acquisition of job search techniques.
Policy objectives
3/15
Access to Lifelong Guidance Services
Assessing the effectiveness of Lifelong Guidance Provision
Assuring the quality of Lifelong Guidance Provision
Career Management Skills
Contributing the rise of mobility of people in Europe for education and employment purposes
Funding Lifelong Guidance Services
ICT in Lifelong Guidance
Improving careers information
Improving employability and supporting older workers
Interactive online tools
Raising the skills and qualifications of adults
Raising the skills and qualifications of young people
Strategic Leadership
Supporting people at risk and disadvantaged groups
Training and Qualifications of Guidance Practitioners
Access to Lifelong Guidance Services
INNOVATIVE ASPECTS OF LMI
2/21
Blended counselling
Creation of ePortfolios with students' skills and competences
Crowed sourcing of expert knowledge on educational guidance
Customisation of LMI through the users' adaptation according to their needs
Data entered by end-users
Effective job matching
Guidance methods
Informal LMI
Innovative user profiling
Interoperability with job-search engines
Life course related filtering of LMI
Matching of regional education to labour market
News relevant to educational guidance
Occupational information
One-stop-shop
Personalised educational advice
Provision of additional information on the awards not available elsewhere, to make it easily understood to employers and institutions in other countries
Provision of external links to available EC employment, guidance and educational services
Real time LMI
Scientific research on guidance
Thematic compilation of third party LMI
Interoperability with job-search engines
Due to the multimodal approach towards accession to LMI, Vi@s manages to collect historic labour market information on professions in Portugal, used for the elaboration of the various videos and other multimedia materials on the various occupations available in Portugal and also to collect real and up-to-date information on job vacancies in Portugal.
Vi@s obtains data and information on the labour market from a number of sources:
National Statistics Service;
IEFP;
Local and regional LMI sources.
INNOVATIVE USE OF ICT
7/13
Combination with offline elements
Connection with third parties (LMI, PES, etc.)
Customized RSS feed
Dynamic interconnection of electronic resources according to a life course approach
e-portfolio
Interactive online tools
Mobile app
Online counselling
Online wiki
Open source
Personalised information storage
Quick diagnosis tool
Social media utilisation
Combination with offline elements
Connection with third parties (LMI, PES, etc.)
Personalised information storage
Vi@s offers a variety of interactive tools through its Multimedia Centre, such as online Guidance Programmes, Vocational Games, Electronic Publications and Videos.
"My Portfolio" section allows users to store their CVs and other certificates, which can be communicated via e-mail.
Vi@s obtains data and information on the labour market from a number of sources.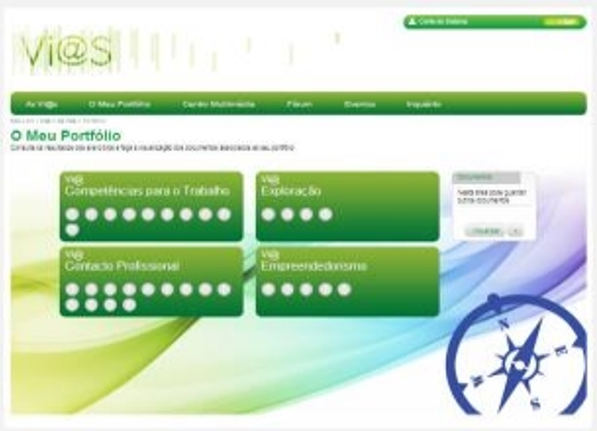 Results and impacts obtained
The number of visits in 2016 was 25 994, while the total number of registrations since May 2012 amounts to 46 532.
From a qualitative perspective, the design of the portal is evaluated as easy to use, while the majority of respondents stated that Vi@s assisted them to comprehend better their professional and academic options and assess their skills.
Evaluation process: from a user's perspective, through satisfaction surveys as well as monitoring of the records and of the number of accesses to the portal, per user profile; from a management perspective, through qualitative assessment of the portal's impact on the management of Public Employment Service resources, performed by managers. Informal feedback is collected from employers and practitioners on the content and usability of the portal.
Success Factors
Response to a real need of the labour market of Portugal at the time of its conception;
Suitability to different user's needs for information and guidance;
High levels of digital literacy amongst Portuguese citizens;
Political support it received;
Connection with the National Statistics Service for the provision of LMI;
Hosting under IEFP.
Points of Attention
Poor dissemination of the portal.
Fear that third parties may have access to some personal information.
Weak computer knowledge of the guidance professionals.
Transferability elements
IEFP's participation in the ELGPN Network and the need of citizens for interaction with the public and private services using ICT means, inspired the Institute to develop this national online guidance service. Vi@s online service was launched in 2012, when Portugal was heavily confronted with the impacts of the financial crisis upon its employment rates.
The costs for the overall development of the application that supports Vi@s portal are estimated around EUR 57 195.
Out of IEFP's 3 268 total staff, around 278 people (8,5%) were Guidance Professionals in 2016, allocated at employment centres or training centres.
The Portal comprises multimedia elements, which contains documents, podcasts on employment, exploratory games, videos etc.;
All stored documents can be sent by e-mail;
The initiative does not require advanced IT literacy.
Further personal, face-to-face counseling is needed afterwards;
Stakeholders such as the Ministry of Education, employers, practitioners, as well as the end users contribute to the portal's design and configuration and to the improvement of the services provided.
Improvement and update of the portal through its integration within the new IEFP IT system;
Improvement of the IEFP information system, to integrate it within the PES;
Further development of the skills system.