Challenges Addressed
5/14
Blended counselling
Exchange and knowledge transfer (among educational professionals, guidance counsellors, etc.)
Facilitation of transition from school education to career selection
Improve matching between skills and jobs
Improvement of guidance/ employment services
Increase the interaction between schools and professional life
Increase the mobility of people in Europe for education and employment purposes
Promote self-assessment
Provision of low-threshold information on educational guidance to disadvantaged adult populations
Raise awareness on guidance
Reduce early school leaving
Support those wishing to re-enter the labour market
Tackling unemployment
Target unemployment
Improve matching between skills and jobs
Improvement of guidance/ employment services
Support those wishing to re-enter the labour market
The Occupational Development Navigator addresses skilled adults who are interested in further developing their professional career. Separate entry paths are provided to different sub-groups, including to those who (a) wish to change their current profession, (b) are interested in career advancement within their current profession, (c) wish to re-enter the labour force after a career break and (d) are interested in further education opportunities more generally.
The development of BEN supports BA's strategy towards exploiting the potentials provided by digital media for the participation in the labour market while at the same time increasing labour market transparency and speeding up interactions with its clients. Through its design as a self-service system, BEN aims at improving career management skills by empowering users to understand the influence of personal characteristics and external factors on potential career choices. The system is however also suitable to support professional counselling by experts.
Policy objectives
5/15
Access to Lifelong Guidance Services
Assessing the effectiveness of Lifelong Guidance Provision
Assuring the quality of Lifelong Guidance Provision
Career Management Skills
Contributing the rise of mobility of people in Europe for education and employment purposes
Funding Lifelong Guidance Services
ICT in Lifelong Guidance
Improving careers information
Improving employability and supporting older workers
Interactive online tools
Raising the skills and qualifications of adults
Raising the skills and qualifications of young people
Strategic Leadership
Supporting people at risk and disadvantaged groups
Training and Qualifications of Guidance Practitioners
Access to Lifelong Guidance Services
Improving careers information
INNOVATIVE ASPECTS OF LMI
3/21
Blended counselling
Creation of ePortfolios with students' skills and competences
Crowed sourcing of expert knowledge on educational guidance
Customisation of LMI through the users' adaptation according to their needs
Data entered by end-users
Effective job matching
Guidance methods
Informal LMI
Innovative user profiling
Interoperability with job-search engines
Life course related filtering of LMI
Matching of regional education to labour market
News relevant to educational guidance
Occupational information
One-stop-shop
Personalised educational advice
Provision of additional information on the awards not available elsewhere, to make it easily understood to employers and institutions in other countries
Provision of external links to available EC employment, guidance and educational services
Real time LMI
Scientific research on guidance
Thematic compilation of third party LMI
Innovative user profiling
Life course related filtering of LMI
Tailored information is derived from various online sources to match frequently experienced life courses, e.g. re-entering the labour market following a maternity.
Based on some key information to be entered into the online system by the user, those interested in occupational change are e.g. provided with extensive descriptions of potentially suitable occupations. Moreover, information is provided on required qualifications, legal aspects, earning opportunities, general labour demand and the geographic distribution of current job vacancies. A self-assessment tool helps the user in matching occupational requirements with own work and social behaviour, personal skills, capabilities, interests and ambitions.
Those interested in career progression are provided with a pre-selection of potentially suitable career positions. This is augmented with a tailored bundle of information aimed at supporting the user in assessing different options potentially available for progressing the own career. These include e.g. position-related work processes and responsibilities, required qualifications, training opportunities and duration, certificates, financial aspects and wage levels according to geographical regions. A self-assessment tool helps in exploring the user's strengths and experiences when it comes to the aspired job position.
Users interested in re-entering the labour market or in further education more generally are provided with a similarly wide range of information and labour market intelligence.
INNOVATIVE USE OF ICT
3/13
Combination with offline elements
Connection with third parties (LMI, PES, etc.)
Customized RSS feed
Dynamic interconnection of electronic resources according to a life course approach
e-portfolio
Interactive online tools
Mobile app
Online counselling
Online wiki
Open source
Personalised information storage
Quick diagnosis tool
Social media utilisation
Combination with offline elements
Dynamic interconnection of electronic resources according to a life course approach
The Occupational Development Navigator (BEN) provides self-empovering labour market intelligences to the suer by dynamically interconnecting diverse online resources according to frequently experienced life courses;
Following positive experiences gained with BEN, BA has started to establish an integrated "online world" as a single-entry point to a variety of online resources and interactive tools which have hitherto been separately offered;
The dynamic interconnection of diverse online resources enables effective self-service delivery as well as support of expert counselling in terms of dynamic information retrieval according to what users want to achieve (no need to search for online resources for different purposes anymore).
Results and impacts obtained
In terms of numbers, BA's "online world" is currently accessed by about 5 000 000 users per month.
As regards qualitative results, ongoing monitoring of usage patterns suggests that BEN users tend to find more easily information which is of particular relevance to them when compared with practices observed prior the development of BEN. Thus clients are enabled to make better use of labour market information and related tools generally available from BA.
In terms of a formative evaluation approach, the development of BEN relied on the systematic involvement of end users, in accordance with user-centred design techniques. Also, practitioners were included in this process right from the beginning.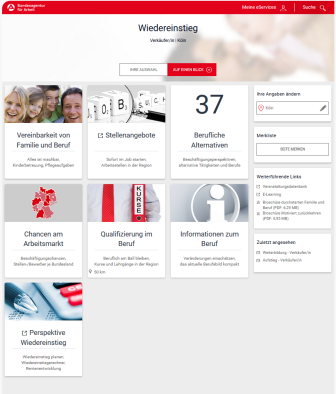 From a strategic perspective, BEN served as a successful test case for the dynamic presentation of online content according to a 'live course' approach. Based on first experiences gained in this context, BA has started to integrate further online resources into a single "online world" within which information is dynamically presented according to what different client groups, e.g. career starters or unemployed, typically want to achieve.
Success Factors
Political willingness to consider the development of ICT-based services as a strategic investment for the improvement of public labour market services;
Availability of respective financial resources as part of regular budget of the BA;
A strictly user-centred design approach pursued during the development stage of BEN;
Reliance on a large number of already existing databases and information sources;
Previous experiences gained with the in-house development of various online resources operated by BA prior to the development of BEN supported.
Points of Attention
The continuous development of BA's "online world" encounters a great deal of legacy technology along its way. The expertise and effort required for integrating legacy technologies can easily be underestimated.
The integration of BA's public "online world" with its internal ICT infrastructure at the local job centres poses major infrastructural challenges due to the sheer size of this infrastructure which connects thousands of work stations throughout the country.
Transferability elements
The further strengthening of the potential pool of skilled labour in the domestic economy has been identified as a policy priority by the current Federal Government. Addressing skilled adults by a dedicated online tool fits well with BA's long-term strategy and with policy objectives of the current Federal Government.
The overall budget of BA's ICT unit amounted to roughly EUR 540 000 in 2016.
There is no specific information available on the human resources involved in the development and maintenance of BEN or BA's public "online world".
BA's "online world" is available as a publicly accessible web service;
Certain online features are accessibly only upon registration;
The portal complies with national data privacy legislation;
All online offerings maintained by the BA comply with the national web accessibility regulation.
A feedback mechanism enables each counsellor to ask for help in case he/she experiences difficulties in using the portal.
The ongoing restructuring of the BA's public "online world" according to a strictly user-centred approach;
The benefits potentially provided by the utilisation of social media for the purposes of career guidance are not taken for granted;
Further evidence on potential impacts is to be collated prior to strategic decision making on whether or not social media are to be systematically utilised for career guidance purposes