Challenges Addressed
7/14
Blended counselling
Exchange and knowledge transfer (among educational professionals, guidance counsellors, etc.)
Facilitation of transition from school education to career selection
Improve matching between skills and jobs
Improvement of guidance/ employment services
Increase the interaction between schools and professional life
Increase the mobility of people in Europe for education and employment purposes
Promote self-assessment
Provision of low-threshold information on educational guidance to disadvantaged adult populations
Raise awareness on guidance
Reduce early school leaving
Support those wishing to re-enter the labour market
Tackling unemployment
Target unemployment
Exchange and knowledge transfer (among educational professionals, guidance counsellors, etc.)
Facilitation of transition from school education to career selection
Improve matching between skills and jobs
Improvement of guidance/ employment services
Raise awareness on guidance
The Service aims to increase the number of people in employment, improve skills levels and make a difference to people's lives, helping individuals, communities and businesses to succeed. Services associated with the National Careers Service include: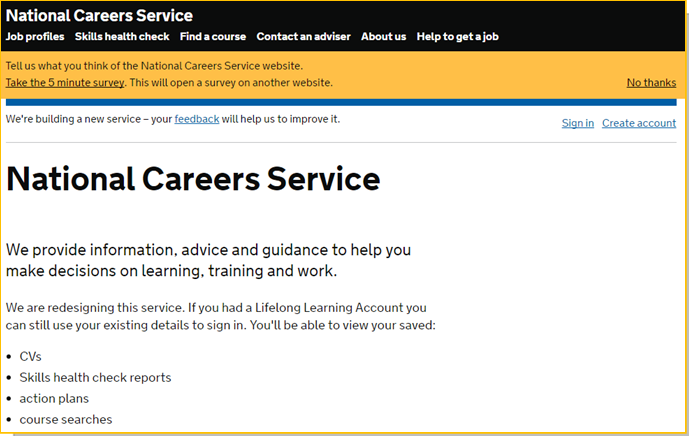 The digital service, including the website, online careers tools, Lifelong Learning Account, job profiles, webchat and social media;
Area based services: confidential and impartial advice, supported by qualified careers advisers in local centres;
Local labour market information and brokerage services for schools, employers, HE/FE institutions and other intermediary organisations.
The National Careers Service (particularly area-based services) is slanted towards the users with the greatest need, which very often means that their ability to choose their own career is less than other groups. Besides progression into employment and learning, a main focus of the service is empowerment of users and identifying the transferable skills that can help to consider new options.
Policy objectives
12/15
Access to Lifelong Guidance Services
Assessing the effectiveness of Lifelong Guidance Provision
Assuring the quality of Lifelong Guidance Provision
Career Management Skills
Contributing the rise of mobility of people in Europe for education and employment purposes
Funding Lifelong Guidance Services
ICT in Lifelong Guidance
Improving careers information
Improving employability and supporting older workers
Interactive online tools
Raising the skills and qualifications of adults
Raising the skills and qualifications of young people
Strategic Leadership
Supporting people at risk and disadvantaged groups
Training and Qualifications of Guidance Practitioners
Access to Lifelong Guidance Services
Assessing the effectiveness of Lifelong Guidance Provision
Assuring the quality of Lifelong Guidance Provision
Improving careers information
Improving employability and supporting older workers
Raising the skills and qualifications of adults
Raising the skills and qualifications of young people
Supporting people at risk and disadvantaged groups
Training and Qualifications of Guidance Practitioners
INNOVATIVE ASPECTS OF LMI
7/21
Blended counselling
Creation of ePortfolios with students' skills and competences
Crowed sourcing of expert knowledge on educational guidance
Customisation of LMI through the users' adaptation according to their needs
Data entered by end-users
Effective job matching
Guidance methods
Informal LMI
Innovative user profiling
Interoperability with job-search engines
Life course related filtering of LMI
Matching of regional education to labour market
News relevant to educational guidance
Occupational information
One-stop-shop
Personalised educational advice
Provision of additional information on the awards not available elsewhere, to make it easily understood to employers and institutions in other countries
Provision of external links to available EC employment, guidance and educational services
Real time LMI
Scientific research on guidance
Thematic compilation of third party LMI
Innovative user profiling
Interoperability with job-search engines
Personalised educational advice
Each National Careers Service contractor is responsible for bringing all their regional/local LMI together for public access. The localised LMI is informed by various sources, such as Local Enterprise Partnership labour market reports, local LMI networks, local businesses and industry. It is accessed by career advisers online through a monthly bulletin and reports.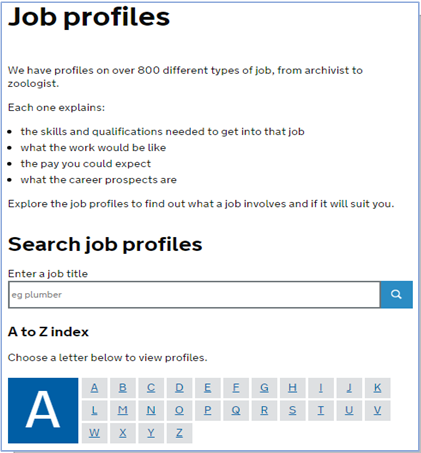 The digital service aimed at the public uses LMI quite differently, it is informed by various data sources such as the National audit office, the Office for National Statistics. The LMI includes data on job profiles, qualifications etc which feeds into a set of user-friendly tools (as detailed below)
INNOVATIVE USE OF ICT
8/13
Combination with offline elements
Connection with third parties (LMI, PES, etc.)
Customized RSS feed
Dynamic interconnection of electronic resources according to a life course approach
e-portfolio
Interactive online tools
Mobile app
Online counselling
Online wiki
Open source
Personalised information storage
Quick diagnosis tool
Social media utilisation
Combination with offline elements
Connection with third parties (LMI, PES, etc.)
Personalised information storage
Comprehensive online portal offering supportive tools;
Upon free registration, results and records from all tools can be permanently stored in a Lifelong Learning Account;
Course search tool for exploring an extensive course database ranging from Apprenticeships to flexible learning courses;
Dedicated funding advice section;
Skills Health Check Tool;
Online quizzes;
Action Plan Tool;
Job profile database currently containing 800 files;
Advice from trained counsellors is available via web chat and e-mail.
Results and impacts obtained
Evaluation process: All contractors are obliged to support SFA requests to participate in customer satisfaction and progression surveys and other research and evaluation programmes. The 'payment by results' funding model means that contractors are required to capture information about each client at three specific stages in order to receive payment – these are upon completion of a 'Customer Satisfaction Survey' and Action Plan (after the first session), upon completing the Action Plan, and upon progression into work and learning (for at least 3 months). This data informs the SFA's Satisfaction and Progression Survey, which in 2014 reported the following national figures for the unique services: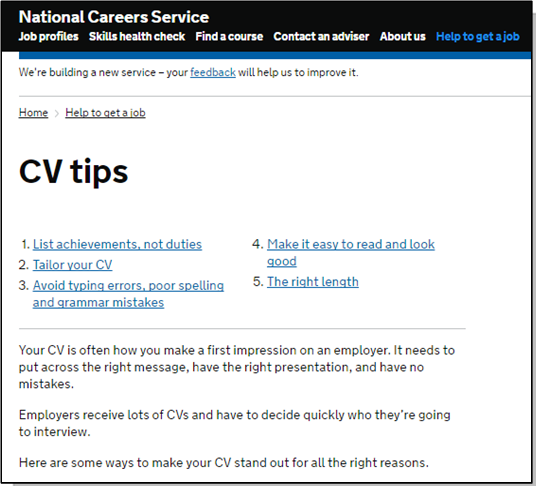 Face-to-face         5,592           
Telephone            3,203
Online                   9,476
Of the above-mentioned sessions, 50% of the clients had progressed in employment (significantly higher than the 46% in Year 2), through changing jobs / getting a job (32%, up from 29% in Year 2), taking up voluntary work (19%), changing career (16%) or achieving a pay rise or promotion (11%). Face-to-face and telephone advice customers were more likely to have achieved employment progression (51% and 50%) than telephone information customers (45%).
Success Factors
The National Careers Service is considered a success on many levels. Following to the publication of the National Careers Service Satisfaction and Progression Surveys Annual Report, Joe Billington, the Director of the National Careers Service, said that 'the results of the survey are truly remarkable and emphasise the value that the National Careers Service adds to people's lives and careers'. The online tools in particular, the Skills Health Check, the CV Builder and the Job Profiles, are well respected by careers professionals nationally and internationally. Contractors are encouraged to promote positive case studies to inspire potential users and celebrate success, encouraging potential clients to use the service.
Points of Attention
Political changes - the service should be agile enough to respond to changes effectively
Increased digitalisation of the service in terms of adviser skills and maintenance of websites.
Payment by results funding model – results are difficult to evidence.
Transferability elements
When the National Careers Service was launched in 2012, the national unemployment rate averaged around 8%. The (then) Skills Minister John Hayes said: "With competition for jobs fiercer than ever, now is the time to introduce a careers service that will deliver on its promise…Making available the right advice at the right time and in the right places is to strike a blow for social mobility, social cohesion and social justice - a society that encourages people from wherever they start to journey to the destination of their dreams"Since its launch the National Careers Service is delivered in accordance with contractual guidelines and priorities set out by BIS (Business Innovation and Skills) in its annual letter to the SFA (Skills Funding Agency).
The Service is not a profit-making contract; most contractors tend to break even with funding only just covering the costs. Main costs for prime contractors tend to be associated with staff costs, 'ancillary costs' such as marketing, phone service and premises.
National Careers Service centres employ a range of staff, from qualified professional career advisers and coaches to administrators, marketing staff and managers. Advisers must have a Level 4 Diploma in Career Information and Advice and a Level 6 Diploma in Career Guidance and Development.
A single contractor runs the website and the web chat facility and takes basic phone calls from a national 0800 number;
Fixed terminals and laptops are in place for advisors to record information about clients, and customers have access to computers in public areas;
Contracted organisations must ensure that data is captured through a robust Data Management System developed according to the contractual guidelines of the Service;
Employees must ensure that all systems used to access, process, transmit or store personal data are implemented in accordance with the contract and conform to government guidelines on security.
The Service supports many different types of customer, using a variety of different delivery methods (face-to-face, telephone, online) to respond to varying needs;
Qualified career professionals use their professional judgement on appropriate methods and tools for integrating LMI into their delivery.
Clearer focus toward supporting specific priority groups and less face-to-face activity for customers who should be signposted to the website and telephone service;
Continuation of the greater focus on the role of employers involved in career guidance and education.