Challenges Addressed
3/14
Blended counselling
Exchange and knowledge transfer (among educational professionals, guidance counsellors, etc.)
Facilitation of transition from school education to career selection
Improve matching between skills and jobs
Improvement of guidance/ employment services
Increase the interaction between schools and professional life
Increase the mobility of people in Europe for education and employment purposes
Promote self-assessment
Provision of low-threshold information on educational guidance to disadvantaged adult populations
Raise awareness on guidance
Reduce early school leaving
Support those wishing to re-enter the labour market
Tackling unemployment
Target unemployment
Facilitation of transition from school education to career selection
Improvement of guidance/ employment services
KomposyT addresses the need for targeted interventions tailored towards children with special educational needs, in particular where these tend to encounter severe obstacles towards their transition from school to work. An online platform is operated to support professional diagnostics, one-to-one counselling as well as easy access to different sorts of information by children with special educational needs and their parents. Emphasis is also given to capacity building among professionals working in this field. Moreover, the initiative aims at building up an ever-growing evidence base for the further development of diagnostic tools and guidance materials.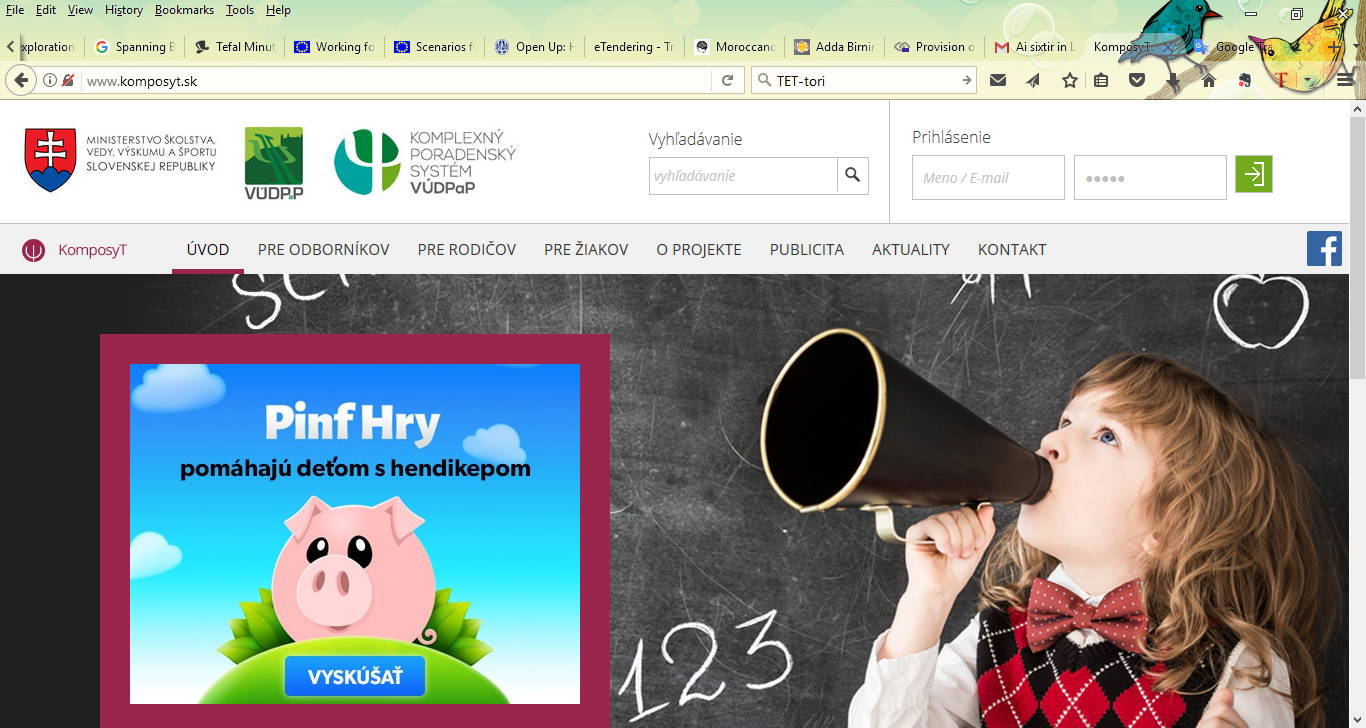 Policy objectives
8/15
Access to Lifelong Guidance Services
Assessing the effectiveness of Lifelong Guidance Provision
Assuring the quality of Lifelong Guidance Provision
Career Management Skills
Contributing the rise of mobility of people in Europe for education and employment purposes
Funding Lifelong Guidance Services
ICT in Lifelong Guidance
Improving careers information
Improving employability and supporting older workers
Interactive online tools
Raising the skills and qualifications of adults
Raising the skills and qualifications of young people
Strategic Leadership
Supporting people at risk and disadvantaged groups
Training and Qualifications of Guidance Practitioners
Access to Lifelong Guidance Services
Assuring the quality of Lifelong Guidance Provision
Improving careers information
Raising the skills and qualifications of young people
Supporting people at risk and disadvantaged groups
Training and Qualifications of Guidance Practitioners
INNOVATIVE ASPECTS OF LMI
4/21
Blended counselling
Creation of ePortfolios with students' skills and competences
Crowed sourcing of expert knowledge on educational guidance
Customisation of LMI through the users' adaptation according to their needs
Data entered by end-users
Effective job matching
Guidance methods
Informal LMI
Innovative user profiling
Interoperability with job-search engines
Life course related filtering of LMI
Matching of regional education to labour market
News relevant to educational guidance
Occupational information
One-stop-shop
Personalised educational advice
Provision of additional information on the awards not available elsewhere, to make it easily understood to employers and institutions in other countries
Provision of external links to available EC employment, guidance and educational services
Real time LMI
Scientific research on guidance
Thematic compilation of third party LMI
Innovative user profiling
Personalised educational advice
KomposyT relies on the combined provision of publicly accessible LMI with relevance to pupils with special educational needs and dedicated experts' tools in the sense of a one-stop-shop.
Available information specifically tailored to students ranges e.g. from success stories of young people who have managed to enter into the labour market over descriptions of occupational fields up to decision making strategies concerning personal career development. Such information is accompanied by self-evaluation tests and online games for relaxation.
Information addressing parents in particular includes e.g. guidance on how to better understand the situation of their children and how to support them in making career decisions. Also, information on where to seek professional support and links to external information sources are provided.
Through a password protected area of the platform professionals can access a range of expert tools and supportive information. After logging into the system a personal dashboard enables easy access to diverse diagnostic tests. Currently, more than 30 tests are available through the platform. For each test a comprehensive description is available on how to fill in the test questions and – equally important – how to interpret its results. In relation to the latter, the platform supports instant analyses of client-related data gathered during the testing procedure. Moreover, a set of training modules is provided to registered expert users.
INNOVATIVE USE OF ICT
3/13
Combination with offline elements
Connection with third parties (LMI, PES, etc.)
Customized RSS feed
Dynamic interconnection of electronic resources according to a life course approach
e-portfolio
Interactive online tools
Mobile app
Online counselling
Online wiki
Open source
Personalised information storage
Quick diagnosis tool
Social media utilisation
Combination with offline elements
Personalised information storage
KomposyT is a publicly accessible web service;
Selected documents are available for downloading;
Self-assessment tools and online games are available for interactive online utilisation;
Resources available through the KomposyT platform can be combined with a complementary on-site counselling methodology supported by different materials;
Password protected access to the closed area of the platform is enabled by the administrator only upon completion of a dedicated training course provided by VÚDPaP staff;
Upon consent, registered experts are also able to remotely administer their own client database;
Upon consent, a client database enables electronic storage of information on diagnostic tests performed and outcomes achieved;
A set of thematic tele-learning modules can be selected according to the expert user's specific interests.
Results and impacts obtained
In numbers, usage statistics have increased from 102 unique visitors in 2014 to 32 178 visitors during 2015; almost 2 000 expert users are currently registered on the platform.
In terms of qualitative results, career counsellors and educational guidance practitioners save time through the ICT-supported analysis of performance data gathered, resulting in more time generally available for interacting with their clients. In addition, the platform provides an easily accessible single source of information on how test results are to be correctly interpreted, which again contributes to achieving a better service quality overall. School-based counsellors tend to rely upon KomposyT as a quality assured evidence base when interpreting their counselling role within day-to-day teaching practices. Thus, KomposyT potentially helps in improving the effectiveness of school-based career counselling provided to pupils with special needs.
Evaluation process: Three rounds of user testing have been carried out during the development phase of the KomposyT platform. Beyond these activities, no dedicated user evaluation has taken place yet.
Success Factors
Political willingness to improve the quality of existing career guidance services and availability of strong scientific expertise in relation to children with special educational needs by involving a specialised research institution;
Availability of financial resources from the ESF acted as a facilitating factor for developing the approach;
Pursuing a needs-driven development approach, thereby involving practitioners in the elicitation of functional and non-functional design requirements;
Well established relationships between the lead organisation and key stake holders;
Extensive awareness rising and promotional measures addressing both professional and non-professional users.
Points of Attention
Not all practitioners immediately welcomed the utilisation of the online platform within day-to-day practice.
Uptake of KomposyT among pupils with special educational needs did not happen automatically.
Transferability elements
At policy level, effective career education, career guidance and counselling are seen as viable approaches towards reducing current levels of youth unemployment. However, pupils with special educational needs tend to face considerable difficulties in benefitting from mainstream services. The establishment of a specialised research institution, VÚDPaP, already back in the 1960s has contributed to the compilation of a strong scientific knowledge base and to the development of related personal resources respectively. This helped in the development of services specifically tailored to the needs of disadvantaged children and youngsters.
No information is available on the overall costs involved in the development and maintenance of the platform. The ongoing operation and maintenance of the platform and related offline activities is financed through the Ministry of Education, of the Slovak Republic.
The ongoing maintenance of the KomposyT system and implementation of related training measures are achieved by the staff of a specilaised institute, VUDPaP. Technical support is provided by a contracted ICT provider. The research part of the overall system is pursued by VUDPaP in collaboration with the Comenius University, Faculty of Social and Economic Sciences.
KomposyT is available to the users as a web service, which does not require any local software installations;
The technical infrastructure relies on a combination of proprietary software and open source components;
The integration of the diverse components is achieved within a service-oriented (SOA) platform architecture;
For the password-protected area, a high standard is maintained in relation to data privacy and data protection, comparable to those accepted for the purposes of online banking services.
The overall approach seems to fit with the relevant national system structures, i.e. school-based counselling provision complemented by specialised services delivered through a network of local centres for educational and psychological counselling and prevention, all this methodologically supervised by a specialised research institute.
Extension of functionalities currently provided by the platform, with a view to facilitating interpersonal exchange of users by means of some kind of messaging functionality;
Possible extension of current conceptual focus beyond pupils with special educational needs. Connection of the platform with the government cloud to be set up by 2020 according to the national eGovernment strategy.