Challenges Addressed
4/14
Blended counselling
Exchange and knowledge transfer (among educational professionals, guidance counsellors, etc.)
Facilitation of transition from school education to career selection
Improve matching between skills and jobs
Improvement of guidance/ employment services
Increase the interaction between schools and professional life
Increase the mobility of people in Europe for education and employment purposes
Promote self-assessment
Provision of low-threshold information on educational guidance to disadvantaged adult populations
Raise awareness on guidance
Reduce early school leaving
Support those wishing to re-enter the labour market
Tackling unemployment
Target unemployment
Facilitation of transition from school education to career selection
Improve matching between skills and jobs
Improvement of guidance/ employment services
Onderwijskiezer.be provides information about primary, secondary and higher educational opportunities in Flanders in order to help people in making an informed study and occupational choice.
The tool is aimed at students and their parents looking for a school, a study programme or a pupil guidance centre. It is also designed for teachers and practitioners involved in student guidance as an information tool and as a tool to be used in their career guidance activities.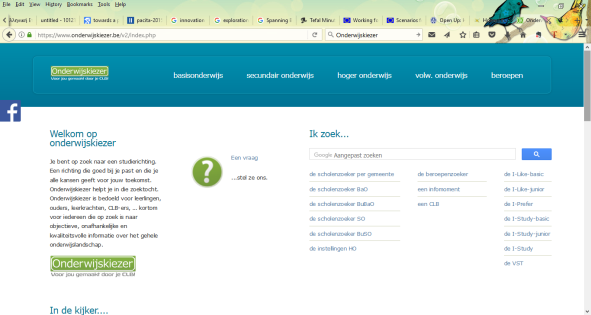 Policy objectives
8/15
Access to Lifelong Guidance Services
Assessing the effectiveness of Lifelong Guidance Provision
Assuring the quality of Lifelong Guidance Provision
Career Management Skills
Contributing the rise of mobility of people in Europe for education and employment purposes
Funding Lifelong Guidance Services
ICT in Lifelong Guidance
Improving careers information
Improving employability and supporting older workers
Interactive online tools
Raising the skills and qualifications of adults
Raising the skills and qualifications of young people
Strategic Leadership
Supporting people at risk and disadvantaged groups
Training and Qualifications of Guidance Practitioners
Access to Lifelong Guidance Services
Assuring the quality of Lifelong Guidance Provision
Improving careers information
Improving employability and supporting older workers
Raising the skills and qualifications of adults
Raising the skills and qualifications of young people
INNOVATIVE ASPECTS OF LMI
4/21
Blended counselling
Creation of ePortfolios with students' skills and competences
Crowed sourcing of expert knowledge on educational guidance
Customisation of LMI through the users' adaptation according to their needs
Data entered by end-users
Effective job matching
Guidance methods
Informal LMI
Innovative user profiling
Interoperability with job-search engines
Life course related filtering of LMI
Matching of regional education to labour market
News relevant to educational guidance
Occupational information
One-stop-shop
Personalised educational advice
Provision of additional information on the awards not available elsewhere, to make it easily understood to employers and institutions in other countries
Provision of external links to available EC employment, guidance and educational services
Real time LMI
Scientific research on guidance
Thematic compilation of third party LMI
Interoperability with job-search engines
LMI depicts the link between educational options, occupations and labour market opportunities. Four types of LMI included in the portal:
Educational information;
Occupational information: about 900 occupational profiles are included in the tool;
Labour market opportunities, although it does not provide labour market forecasts;
Career development information.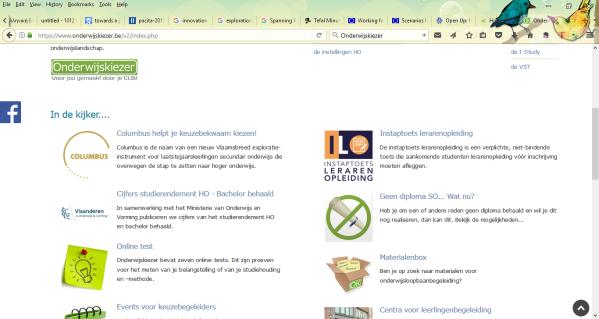 INNOVATIVE USE OF ICT
4/13
Combination with offline elements
Connection with third parties (LMI, PES, etc.)
Customized RSS feed
Dynamic interconnection of electronic resources according to a life course approach
e-portfolio
Interactive online tools
Mobile app
Online counselling
Online wiki
Open source
Personalised information storage
Quick diagnosis tool
Social media utilisation
Combination with offline elements
Connection with third parties (LMI, PES, etc.)
Onderwijskiezer was created as a digital one stop shop and online wiki on educational options in Flanders;
Systems ensure comparability of information across schools;
It is characterised by high connectivity, as it is possible to include information from other databases or sites, or vice versa;
The website is structured in a user friendly, simple way, and is accessible free of cost and registration (accessibility);
Visitors can interact with the team through the permanent questions and answer service.
Results and impacts obtained
Quantitative results: the portal has been quickly adopted in schools and CLB's, students, parents, and teachers since its launch in 2011. The portal received 1,23 million unique visitors between December 2015 and November 2016, and 43% of the visits were from new visitors.
Qualitative results: Onderwijskiezer contributes to the empowerment of users, to better informed career choices, to the improvement skills of career practitioners.
Evaluation process:
informal evaluation system, i.e. occasional feedback from schools, teachers, students, parents;
Google Analytics;
Counselling activities by CLB are registered in the LARS database but these data have not been exploited for analytical purposes.
Success Factors
Single point of entry for citizens and career professionals;
Comprehensive careers and educational opportunities database;
The team applies strict criteria to ensure the impartiality and neutrality of the information;
Fast personalised answer to questions, also during school holidays;
Use of clear, simple language;
A clear network approach for information retrieval, allowing a relatively small core team to manage a huge amount of information and data;
Relatively cheap and simple technology behind the portal.
Points of Attention
Career management skills are a voluntary educational attainment leading to big variety in how the acquisition of career management skills is supported in schools. There is no minimum level that all students should reach.
There is a general feeling that the wealth of information cannot be fully exploited by the key target public, namely students and parents because of its complexity and volume.
Transferability elements
The practice Onderwijskiezer was triggered by several, rather practical aspects such as the fragmentation of educational information, the occasionally biased information, and the opportunity of sharing information to all by creating a website. Onderwijskiezer is an example of a policy initiative integrating ICT and labour market information, education and LMI.
The budget is estimated at least EUR 242 000 per year.
Four full time employees. All staff members of the team have a long experience of working in the field of student guidance, in pupil guidance centres or in projects focusing on the development of educational career guidance. The person responsible for the technological part of the portal is a CPG staff member with a high level of digital literacy.
The information included in Onderwijskiezer is registered in a SQL database. The collection of information is based on two approaches:
a network approach for obtaining information from pupil guidance centres and schools. Schools provide information to the local data manager in their CPG. The local data manager of the CPG adds the information to the portal;
information by other partners is added through links. Sometimes, information is added manually. This work will be automated in the future.
The digital skills required to build and to navigate the tool are quite basic; but, interpreting the information is more difficult e.g. the interpretation of study performance rates.
The team of Onderwijskiezer puts a lot of effort in maintaining contacts and reaching out to partners.
A new orientation tool for students making the transition towards higher education (Columbus) has become recently available;
There are certain issues that could undermine the stability in the long-run such as the lack of structural funding.