Greece
Employed looking for a career change
Guidance Counsellors
Higher education students
School Students/Parents
Teachers/ Professors
Unemployed
National Organisation for the Certification of Qualifications and Vocational Guidance (EOPPEP)
Improving educational/ occupational guidance processes
Guidance Practitioners
Parents and Teachers
Public Organisations, Social Partners, Education Institutions
The role of public organisations, social partners and education institutions is essential in terms of providing data which can be translated into reliable and up-to-date LMI.
Exchange and knowledge transfer (among educational professionals, guidance counsellors, etc.)
Facilitation of transition from school education to career selection
Improve matching between skills and jobs
Improvement of guidance/ employment services
Raise awareness on guidance
Teens Gate provides adolescents and youngsters with meaningful labour market information and guidance tools to support them in selecting an appropriate education and career path. It offers: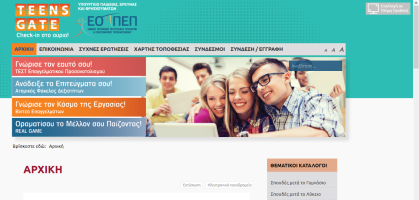 self-administered vocational orientation tests;
personal electronic skills portfolios;
labour market status, trends and regulations;
empowerment and motivation via interactive games;
a convenient communication pathway for scheduling appointments with guidance counsellors across Greece;
awareness on career guidance services in Greece as well as abroad.
Access to Lifelong Guidance Services
Assessing the effectiveness of Lifelong Guidance Provision
Assuring the quality of Lifelong Guidance Provision
Funding Lifelong Guidance Services
Improving careers information
Improving employability and supporting older workers
Raising the skills and qualifications of adults
Raising the skills and qualifications of young people
Supporting people at risk and disadvantaged groups
Training and Qualifications of Guidance Practitioners
Innovative user profiling
Personalised educational advice
Labour market information is manually collected, processed and featured at the Teens Gate by practitioners of the Division for Career Guidance and Counselling of EOPPEP;
Sources utilised include information, data and documentation (such as statistics, survey reports, studies and analyses) provided by:
national public authorities, such as the Ministry of Education, Research and Religious Affairs and the Ministry of Labour, Social Insurance and Social Solidarity;
independent public or semi-public organisations, such as the Hellenic Statistical Authority and OAED, and
other relevant social partners including associations, networks and research centres, such as the General Confederation of Greek Workers, the Hellenic Federation of Enterprises, the network of Greek universities, the Chamber of Commerce, etc.
Combination with offline elements
Connection with third parties (LMI, PES, etc.)
Personalised information storage
The Joomla Content Management System (CMS) serves as Teens Gate's platform. As a result, the platform offers a series of convenient features such as page caching, RSS feeds, easy content editing, advanced search functions as well as multi-language support. More importantly, it provides practitioners with the opportunity to upload information without the need of having any specialised technical knowledge (such as programing).
Quantitative results: Teens Gate's registered users surpassed 560 000 in 2016, nearly 69% more than 2015. The vocational orientation tests are the most preferred (53%) features amongst the users of the Teens Gate, followed by the thematic information catalogues (29%) and the "Ask the counsellor" section of the web portal.
Qualitative outcomes:
(a) improved access of young people to free-of-charge career guidance services;
(b) addressed the career guidance and information needs of young people who face challenges in terms of mobility (people with limited mobility) or life in rural areas of Greece;
(c) supported the provision of personalised guidance services across Greece via appropriate ICT tools;
(d) enhanced the knowledge and skills of career guidance practitioners;
(e) improved the networking and cooperation amongst professionals and stakeholders in the field of guidance aiming at the development of demand-driven LMI and guidance properly adapted to the national context of Greece.
Evaluation: an external evaluation was delegated to an independent organisation, which results were used for the improvement of the portal.
Neutral, reliable and up-to-date LMI;
Need-driven development aimed at addressing actual social and infrastructure challenges;
Scientific background and expertise, willingness and motivation of the practitioners;
Increasing level of ICT digital literacy amongst adolescents and young people in Greece;
Strong scientific background and research-fuelled validity of the tools, aligned with the latest advances in the field of guidance as well as relevant EU guidelines;
Free-of-charge information and tools;
High level of collaboration with stakeholders;
Targeted promotion efforts to raise awareness and foster the effective use of Teens Gate.
Fragmented labour market information sources.
Cultural aspects hampering the adoption of the practice among users.
Transferability elements
The implementation of Teens Gate is realised within the legal and regulatory framework underpinning all activities of EOPPEP. The vital role of ICT and LMI is acknowledged by Greek policy makers, despite adverse national economic context.
The development of the Teens Gate initiative was elaborated on a budget of EUR 965 000, covering the development training of administrators and procurement of necessary equipment.
Four practitioners of the Division for Career Guidance and Counselling are tasked with the implementation of the Teens Gate.
All practitioners are required to possess at least a Master's level of education in the field of guidance and counselling. Additional skills include a high level of digital literacy and expertise in the application of ICT in lifelong guidance practices, and knowledge of the national education system and labour market.
The technological infrastructure required for the implementation of the practice includes simple and widely used software and equipment required for developing and maintaining a web portal. The platform employed is Joomla, which allows practitioners who serve as editors to upload information without the need of having any specialised technical knowledge.
Teens Gate is combined with physical meetings performed by guidance counsellors. EOPPEP experts address parents and teachers with brief one-day seminars in order to support them to help young people to effectively use and benefit from the information and tools available at its interactive guidance web portal. EOPPEP provides seminars aiming at the scientific support and training of guidance practitioners in Greece and on the use of the Teens Gate and its features.
Changing trends in information searching processes, browsing behaviour and content consumption preferences, in the popularity of different digital communication channels or in the size of available internet devices may influence Teens Gate.
EOPPEP is planning on launching an online chat function to better resonate with its young users. Other developments include additional vocational orientation tests and a more elaborate study on the impact of its tools.