Ireland
Employers
Guidance Counsellors
Higher education students
School Students/Parents
Teachers/ Professors
Unemployed
Durrow Communications Limited
Aligning personal capabilities/ ambitions with job requirements
Special-purpose initiatives
Career & Education Guidance Providers
Education Institutions
Government institutions
Guidance Practitioners
Labour Market Partners, Trade Organisations
Public Agencies
Public Authorities & Institutions
Public Organisations, Social Partners, Education Institutions
School Counsellors
Teachers and Career Coordinators
The direct and continuous engagement with stakeholders is a catalyst in the functioning of CareersPortal.ie.
Exchange and knowledge transfer (among educational professionals, guidance counsellors, etc.)
Facilitation of transition from school education to career selection
Improve matching between skills and jobs
CareersPortal.ie is an Irish resource dedicated to those who want to plan their career, from school students, to college graduates or unemployed seeking employment.
Its mission is to provide the most up-to-date career information to its users in an integrated, innovative, supportive and engaging manner.
CareersPortal.ie has an Advisory Group comprised of guidance counsellors and educational professions that feeds directly into the development of the portal, the Post Primary REACH+ Career and College Preparation Programme. Also, MyFuture+ is an innovative ICT adult career learning and development resource that has been developed in collaboration with adult guidance and education staff to support individuals with their career planning and decisions.
Access to Lifelong Guidance Services
Improving careers information
Improving employability and supporting older workers
Training and Qualifications of Guidance Practitioners
CareersPortal has a number of interactive on-line tools including the REACH+ Programme and the MyFuture+ Programme. These tools include various online tools such as the Interest Profiler, the Personality Assessment, the Career Skills assessment, etc.
Creation of ePortfolios with students' skills and competences
Innovative user profiling
Interoperability with job-search engines
Life course related filtering of LMI
News relevant to educational guidance
Personalised educational advice
Labour Market Statistics are provided in collaboration with the Irish Expert Group on Future Skills Needs, with a clear indication on skills shortages.
Hundreds of job types are profiled, and information is provided per occupation along with job vacancies, Graduate Training Programmes and internships.
Education and training opportunities are also outlined, together with an extensive section on Apprenticeships.
Teaching resources for career guidance professionals, leaving certificate vocational programme teachers, transition year coordinators and relevant subject teachers at both 2nd level education and in the adult guidance services, are also provided (REACH+ and MyFuture+).
Combination with offline elements
Connection with third parties (LMI, PES, etc.)
Personalised information storage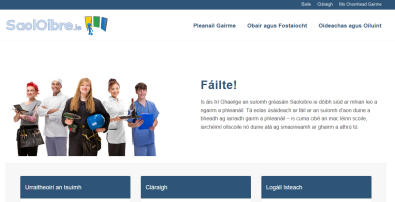 ICT is a catalyst for CareersPortal.ie, as it relies on sophisticated use and structuring of labour and education related information. It is user-friendly, and it is also available for tablet and smartphones. CareersPortal.ie has also an RSS feed which is being used by schools, colleges etc.
Information on employment sectors is supported by videos.
All visitors can create and manage their own free online Career File.
Additional domains are used for specific services, (myfuture.ie, workxperience.ie and saoloibre.ie).
Apart from the online tools, CareersPortal.ie is also providing guidance through workbooks, training career fairs, etc.
Quantitative results: CareersPortal has been growing by around 30% per annum. Overall, it is considered the largest and most comprehensive career guidance tool in Ireland.
Qualitative outcomes: the portal has accelerated career learning and facilitated individuals' personal development. Additionally, the portal has been promoting lifelong learning, which had an indirect impact on the reduction of early school leavers that is a major issue in Ireland.
Evaluation process: i) continuous feedback by its users, mainly via asynchronous modes of communication (e-mails), ii) feedback via the Advisory Groups and the Guidance Counsellors, iii) via personal communications with students.
The high level of engagement and close collaboration with practitioners and other stakeholders across all sectors;
The formulation of two Advisory Groups with guidance professionals and other stakeholders;
The close relationships developed and maintained with the Industry;
The dual funding mechanism of the portal, with the highest proportion coming from the private sector;
The provision of training to practitioners and guidance counsellors on how to get the most out of the website;
The interpretation and customisation of LMI data into meaningful information for students and practitioners;
The timing of the development of the portal;
The passion and dedication of its founders and initial team;
The wealth of information on sectors and occupations.
Time: the information available has to be integrated and updated on a daily basis, requiring high resources spent on content.
The maintenance requires high amounts of financial resources and the portal is primarily funded via private resources.
The amount of information stored could be intimidating for people with low digital literacy skills.
Transferability elements
CareersPortal.ie was developed as a response to the report of the Expert Group on Future Skills Needs that recommended the creation of a Central CareersPortal.ie Site as means to assist Government in developing a National Skills Strategy.
The cost structure of the CareersPortal.ie service is mainly comprised of the following categories:
1. Personnel costs;
2. Operational costs covering expenses for marketing, training of guidance professionals, etc.;
3. External experts, who assist CareersPortal.ie to improve its information on the different sectors.
There are currently 10 employees, supplemented by a number of external experts dealing with various aspects of the portal, such as guidance, training, etc. Of the employees, four people are involved with the IT development, two with research, two with training and support and the rest in management, communication, public relations, financial matters, etc. Everyone contributes to the portal's development and feed in resources across its different functions.
The staff comes from a broad range of educational backgrounds, including Psychology, Career Guidance (school and adult), HR, Educational and IT professionals with many years of experience working in schools, the career services, IT and education.
CareersPortal.ie relies heavily on ICT use, through the use of online elements, videos, etc. Additionally, asynchronous means of communication are used for the collection of users' feedback.
Strong stakeholder engagement;
Proper feedback from national statistics service as well as linkages with other – real-time – LMI databases that provide ad-hoc feedback and support.
Increasing use of social media by young people;
Eight new Regional Skills Fora, to be established in Ireland;
Website facelift of the website and hiring of new staff with strong social media and IT skills.