You are here
Please
consent
to cookies in order to use the reading list
VET toolkit for tackling early leaving
A valuable source of support for policy-makers and VET providers
COVID-19 and hard copy dissemination
- Due to the pandemic, Cedefop has decided to suspend distribution of all hard copy publications and flyers for as long as special measures are enforced by Member States.
We encourage you to visit our
website
, where all published titles are available online.
Please note that you can subscribe to alerts for new content by registering
here
.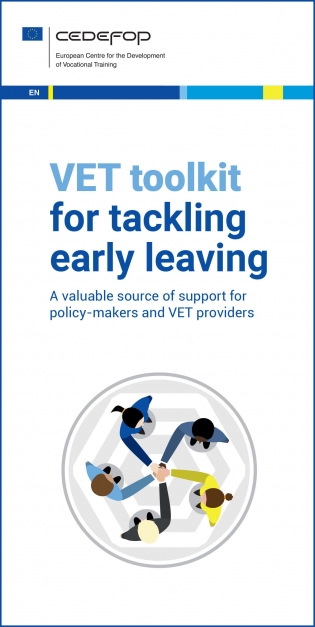 The Europe-wide VET toolkit for tackling early leaving was developed by Cedefop in 2017. Based on evidence of success, It provides practical guidance, tips, good practices and tools drawn from VET aiming at helping young people to attain at least an upper secondary qualification.
Order
Available only in electronic format (download)